To purchase or reserve Season Tickets, please Login first.




Featured Events
~ No one is safe in our Splatter Zone! ~
Based on Sam Raimi's 80s cult classic films, EVIL DEAD tells the tale of 5 college kids who travel to a cabin in the woods and accidentally unleash an evil force. And although it may sound like just a horror, it's way more! The songs are hilariously campy and the show is bursting with more farce than a Monty Python skit. EVIL DEAD: THE MUSICAL unearths the old familiar story: boy and friends take a weekend getaway at abandoned cabin, boy expects to get lucky, boy unleashes ancient evil spirit, friends turn into Candarian demons, boy fights until dawn to survive.
Mature Audiences
Buy Tickets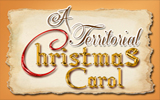 This Pollard Theatre Original, now in its 27th year, never fails to delight enthusiastic Oklahoma audiences. Adapted by gifted Oklahoma playwright, Stephen P. Scott, this version of Charles Dickens' classic tale of redemption and brotherly love is set in the days of the Oklahoma Land Run. The Pollard's all-time bestseller and a true Oklahoma tradition, A Territorial Christmas Carol continues to dazzle audiences and play to sold-out houses, so be sure to buy your tickets early!
General Audience
Buy Tickets