Beehive: The 60's Musical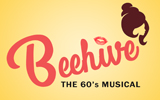 April 12-May 4 2019
Created by Larry Gallagher

Sponsored by:
Jeff & Carol Hirzel
Buck & Sharon Adams

Beehive is the ultimate celebration of 1960's female empowerment. Featuring such timeless classics as "My Boyfriend's Back", "Be My Baby", "Son of a Preacher Man", and "Me and Bobby McGee", Beehive nostalgically recalls the days of miniskirts, transistor radios and flower power. Told from the perspective of six young women who came of age in this enigmatic decade, these young ladies look back on a host of issues ranging from their first Beehive Dance to the challenges we faced as a nation – all accomplished by a vast array of the most celebrated and memorable songs of the era.